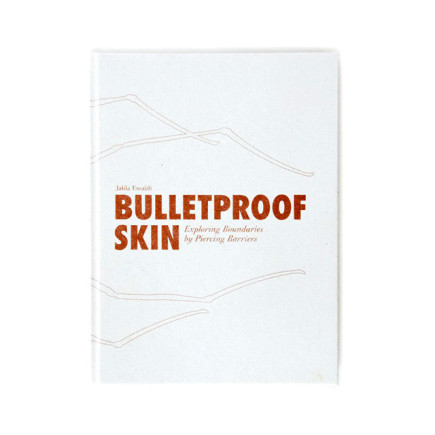 Bulletproof Skin
'Bulletproof skin, Exploring Boundaries by Piercing Barriers' is a beautiful book of art & writing about project '2.6g 329m/s'.
A stunning hardcover book with a special cover and paper that feels soft like skin/silk, counting 160 pages that visually explore the process of creating bulletproof skin. ISBN: 9789081995702
In stock
About Bulletproof Skin
"A project that embraces both art and science and balances on the border of imagination and reality. Which is perhaps the most exciting place to be – as a scientist and as an artist!"
Robbert Dijkgraaf
"What [this book] does what very few books about biotech art do: it brings the project but also the whole field into a broader context. Scientists, philosophers and renowned people involved in the 'biotech art' world contributed to the volume with essays that ponder on the ethical, cultural, artistic and scientific meaning of the project and of biotech artworks in general."
Régine Debatty
Much like human skin this book contains multiple layers: 15 short essays that reflect on spider silk, genetically modified goats, biological art, special ballistic gel and enhanced human skin. It also explorers how gunpowder, spiders and genetic research were already intertwined even before this project started. Among its authors are:
Robbert Dijkgraaf
Robbert Dijkgraaf is a Dutch mathematical physicist and string theorist. He is university professor at the University of Amsterdam, and director and professor at the Institute for Advanced Study in Princeton. Dijkgraaf's research focuses on string theory and the interface of mathematics and physics in general. He is most well known for his work on topological string theory and matrix models.
Richard Pell
Richard Pell works at the intersections of science, engineering, and culture. He is the founder of the Center for PostNatural History, an outreach center dedicated to the collection, documentation, and exhibition of life-forms that have been intentionally altered through selective breeding or genetic engineering. Pell is also a founder of the internationally acclaimed collective, the Institute for Applied Autonomy, and is a professor of Electronic and Time-based Arts at Carnegie Mellon University.
Hub Zwart
Hub Zwart, Full professor of philosophy at the Radboud University Nijmegen; Chair of the Department of Philosophy & Science Studies; Director of the Centre for Society & Genomics (CSG); Director of the Institute for Science, Innovation and Society (ISIS). The focus of his research is on philosophical dimensions of the life sciences: biomedicine, research with animals, environmental research, genomics (notably human genomics and environmental genomics) and other emerging life sciences fields (such as biomaterials and cognitive enhancement).
Joost Ramaer
Joost Ramaer is an independent journalist with the ability and the authority to write about the many aspects, often complex, of the artworld, cultural politics, government and business & economics. Joost has over 20 years of experience working as an editor and reporter at the Volkskrant and Quote and was the first to write about Jalila's project in De Groene Amsterdammer. The story was later republished in the Courrier International, a French magazine bringing a weekly selection of the best stories from an array of international magazines and newspapers.
Simon Ings
Simon Ings is author of acclaimed genre-spanning novels The Weight of Numbers and Dead Water. Simon, who made his name with a trio of ground-breaking cyberpunk novels, is a frequent commentator on science, science fiction and all points in between. He is editor of Arc, 'a bold new digital publication about the future from the makers of New Scientist.'
Oron Catts
Oron Catts is the director of SymbioticA, the Centre of Excellence in Biological Arts, dedicated to the research, learning, critique and hands-on engagement with the life sciences. He is artist, researcher and a curator at the forefront of the emerging field of Biological-arts, whose work addresses shifting perceptions of life.
Randy Lewis
During the past 20 years, Randy Lewis, professor at the Utah State University, has pioneered methods of mass producing artificial spider silk. By transferring silk-producing genes from spiders to goats, along with silkworms, E.coli bacteria and alfalfa, the molecular biologist and his team have developed "factories" capable of producing super-strong, lightweight fiber. Known for his work on spider silk proteins, Lewis has been published in some of the most prestigious scientific journals and featured in several documentaries.